Amethyst Flowers Properties and Meaning – Amethyst flowers are groups of Amethyst crystals grouped together to form the shape of a flower. They are quite rare and special. Read more about Amethyst Flower crystal healing properties below, complete with galleries and a desktop background image!
Intuitive Healing – Spiritual Trigger Words & Phrases For Amethyst Flower
Here at Crystal-Information.com, We like to fully encourage people to use their intuition when it comes to crystals! We believe that every individual is unique, so too is every crystal, thus a unique experience will always occur! Read More

Amethyst Flower Crystal Healing & Properties Information
Amethyst Flower Crystal Healing & Properties Information
For what and How Does One Use it?
Amethyst Flowers may be used to remove radiation created by computers, cellphones and other electrical devices, which is then often stored in the sides of one's head. Simply place the flower next to your head and you will then feel the radiation being drawn out into the crystal. Be sure to cleanse the crystal afterwards. Amethyst is also good for the dream state. Simply place one on a bedside table, or a smaller cluster under a pillow, to bring about peaceful, restful sleep. One also gets the added benefit of more lucid dreams and better clarity in understanding the messages within the dream state. A good meditation technique using Amethyst is to place an Amethyst Flower on the 3rd eye and visualize yourself breathing in the color to help soothe the mental and emotional states. It is a very good technique to do in bed before going to sleep.
Summary
Here at Crystal-Information.com we view Amethyst as a bread-and-butter crystal. That is not to say it is a mere common crystal, but rather an absolute necessity in anybody's healing kit!
Please note: Amethyst can and does fade when placed in direct sunlight, so place with care.
Amethyst Flower Galleries and High Resolution Photo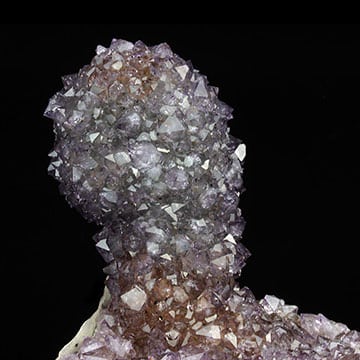 Amethyst Flower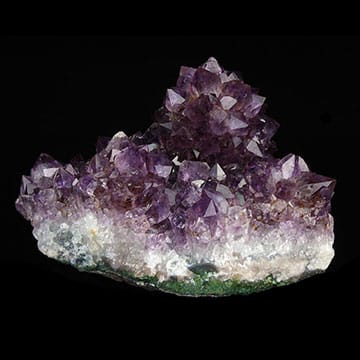 Amethyst Flower Cluster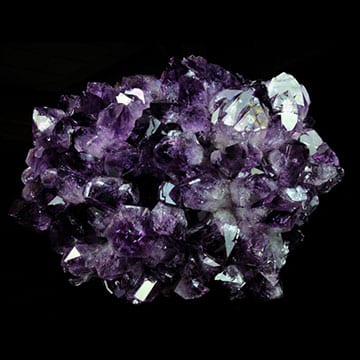 Amethyst Flower From Uruguay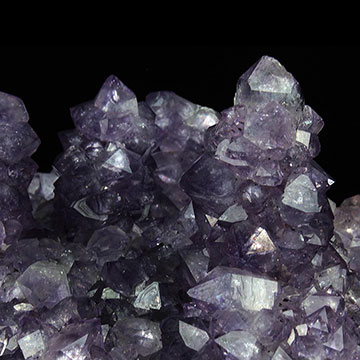 Amethyst Flower Cluster
Click the Amethyst Flower below for a high resolution photo!
Do you have a personal experience, question or information pertaining to Amethyst Flowers Properties and Meaning? Please feel free to use the comments form below to share your knowledge with the Crystal Information encyclopedia. Please note, we moderate this feature to keep the site free from unwanted spam.
Related Terms