Mongolian Quartz Properties and Meaning
Mongolian Quartz Crystals come in many formations, colors and sizes. The most famous are the ones with green Hedenbergite inclusions. Read more about Mongolian Quartz crystal healing properties below, complete with galleries and plenty of exciting large desktop background images!
General Mongolian Quartz Crystal Healing Information
For what and How Does One Use it?
Mongolian Quartz Crystals have been coming out in greater and greater numbers since 2013. They are crystals for "The Now". Mongolian Quartz promotes communication and purification of the "Group Consciousness".
Mongolian Quartz forms in many colors, but particularly in the colors of the heart – Green and Pink. These crystals are appearing to help humanity come from a place of the heart, both in the physical and emotional sense. Some of the Quartz crystals are forming with beautiful Pink Calcite. These crystals are exceptional emotional healers, breaking through old blockages, working through both ethereal and electrical levels.
Mongolian Quartz often has etching, some is very finely detailed and other crystals exhibit breath taking chiseled etching/formation.
Many Mongolian Quartz crystals have inclusions of Green Hedenbergite – though there is a growing number of geologists and gemologists that are suggesting the green inclusions are in fact Actinolite – stay tuned and we here at Crystal Information will let you know more as we get information to hand!
Another style of Mongolian Quartz we will cover is the Dual Core variety. These are pseudomorph crystals. Initially the crystal will most often be a clear quartz crystal, then will at a later time be covered over with an included variety of Quartz, or a completely different color – though also mainly due to micro inclusions of other minerals. These crystals are like "Charging Stations". The inner core radiates and amplifies the overlaid included layer – combining to make for a very powerful healing experience.
Further Mongolian Quartz information can be found below under each individual family photo.
Click the Mongolian Quartz Crystals below for higher resolution photos!
This green Hedenbergite Included Mongolian Quartz displays the deep rich colorization along with impressive chiselled formation. This crystal is about building up strength from the heart. It fights cancerous and free radical cells. This Mongolian Quartz variety increases all around well being
This Specularite Included Mongolian Quartz displays impressive chiselled Double Terminated formation. These crystals are almost always white, with extremely finely detailed etching. The sparkling Specularite is also known as Specular Hematite – Hematite so pure it has crystallized! This Hematite runs at a higher vibration than normal Hematite. Thus these Mongolian Laser Wand Quartz crystals have a bright pure and powerful focus that is amplified, yet grounded by the Specularite.
This Pink core Mongolian Quartz also has Specularite (Crystallized Hematite) on the surface. These rare crystals exude emotional healing and well being. They work on the outer emotional layer of the body. Helping one to deal with prior emotional hurt – bringing acceptance and forgiveness towards those that have caused harm in the past. This Mongolian Quartz family exude an empathetic and positive energy towards all humanity.
This Mongolian Quartz variety displays Elestial etching with Laser Wand Form and Specularite. This crystal is about channeling and focusing knowledge and information in such a way as those receiving it may understand and assimilate the information.
This green Hedenbergite Included Mongolian Quartz has Elestial formation. This crystal is about building up your knowledge base – it is literally a library of information! In addition – it still has the other properties and abilities of the other Hedenbergite included Quartz, such as anti cancer and all around well being.
This green Hedenbergite Included Mongolian Laser Wand Quartz crystal displays the deep rich colorization along with impressive etched formation. It has a sharp focus on building up the immune system and eradicating cancerous and free radical cells.
This olive Hedenbergite Included Mongolian Quartz has Purple Fluorite crystals on the termination and sides! This combination has a special focus on cellular regeneration with all free radicals being eradicated. This is a super powerful combination of minerals.
This style of Mongolian Quartz is called "Snow Cap" Quartz. The termination is "Snow Capped" with Calcite! The Calcite snow cap acts as a filter to soften the intensity of the energy – making it more comfortable for sensitive people to utilize.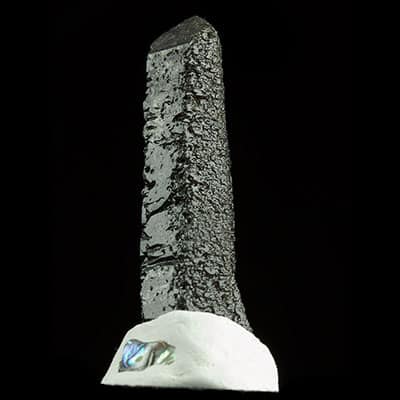 Duel Core Mongolian Elestial Laser Wand Quartz Crystal
Do you have a personal experience, question or information pertaining to the crystal healing properties and meaning of Mongolian Quartz? Please feel free to use the comments form below to share your knowledge with the Crystal Information encyclopedia. Please note, we moderate this feature to keep the site free from unwanted spam.