Phantom Quartz Properties and Meaning
Phantom Quartz Crystals have smaller images of themselves within the body of the main crystal. They form through other minerals washing over the main crystal through its growth cycle. Read more about Phantom Quartz crystal healing properties and view photos below.
Intuitive Healing – Spiritual Trigger Words & Phrases For Phantom Quartz
Phantom Quartz Crystal Healing & Properties Information
For what and How Does One Use it?
Phantom Quartz crystals are all about growth and moving on, moving past blockages.
On a physical level, these crystals are created when another substance other than Quartz washes over the crystal, leaving a layer on the termination during the crystal's natural growth cycle. The crystal continues to grow, leaving an image of itself where it was at the time the substance washed over it. Phantoms can be made up of such minerals as Chlorite, Hematite, or even Clay. On occasion heat can play a part, causing a phantom to be visible through a different color shade. Most often either Smoky or Amethyst can display these heat-induced types of Phantom.
The most powerful phantom configurations are termed as being 3D. This is where the substance has totally covered the entire termination, leaving a three-dimensional image of itself.
Phantom crystals are very good for helping us move past blockages, where we may have become "stuck." The type of inclusion that makes up the phantom also plays a part in the gifts that these special crystals have to offer us. They can also be used to project growth and plan milestones.
Hold a Phantom Quartz and visualize/remember a traumatic time in your life that you may perceive as having stunted your growth. Now see yourself actually becoming stronger through this experience. Let that experience become a marker, a testament to your strength, growth and perfection in that moment. Now bring that perfection and strength forward to the present day. Give thanks to the Phantom Crystal in helping you change your perception and facilitating your self-healing!

Phantom Quartz Healing Properties Video
More information on different types of Phantom Quartz below!
Click on the Quartz Phantom Crystals below to view high resolution photos!
Smoky Amethyst Heat Zoned Phantom Quartz Crystal – Both the Amethyst and Smoky components of this Phantom Quartz Crystal combine to bring about a smoother transition through the "Breaking Out" of old energy patterns that Phantom Quartz Crystals initiate. The Smoky Quartz Phantom component helps us release the built up unwanted energy residue and the Amethyst Phantom component inspires one to move forward with illumination and renewed hope and confidence both within the heart and mind.
Clay Included White Chlorite Phantom Quartz Crystal – Both the Clay and White Chlorite components of this Phantom Quartz Crystal combine to help bring grounded change for higher good. The Clay energy is very earthy and grounding. The White Chlorite runs at a very pure high vibration and when in Phantom Quartz form – it facilitates change at very high spiritual and intellectual levels. The Clay is a perfect compliment to help ground in these higher energies so lasting change can take a more tenacious hold.
Smoky Amethyst Rainbow Phantom Quartz Crystal – The addition of the rainbow in this Phantom Quartz facilitates manifestation energy while giving the promise of lasting and positive change.
Smoky Heat Zone Phantom Quartz Crystal – This Phantom has occurred while the crystal is under heat and pressure. This particular Phantom Quartz crystal also has "lots going on" with Chlorite inside and having smaller crystals massed on top of the termination. This would be a very good Quartz Phantom for people that need to stay grounded – all the while making changes – when experiencing high pressure situations and having chaotic forces swirl around them.
Amethyst Phantom Quartz Cluster – This Phantom Quartz is the ideal crystal for helping groups of individuals who have become stuck, or bogged down. The Amethyst Phantom Quartz points throw off higher consciousness, facilitating, cooperative, solution finding style of energy. This has the effect of bringing the otherwise disparate group closer together to bring about positive changes supported by one and all – with love, understanding and empathy.
Green and White Chlorite Multiple Phantom Quartz Crystal – This style of Phantom Quartz crystal is fantastic for individuals that need to make many progressive changes in order to reach very lofty goals. People working on complex projects would very much benefit from using a Phantom Quartz crystal such as this one. It will greatly assist in the planning of each stage required to complete the project. The Green Chlorite provides a fresh creative outlook. The White Chlorite provides both a higher intellectual and spiritual energies. All Phantom Quartz inclusions combine together in order to create decisions and plans born of perfect balance between heart, mind and spirit.
Further Phantom Quartz Examples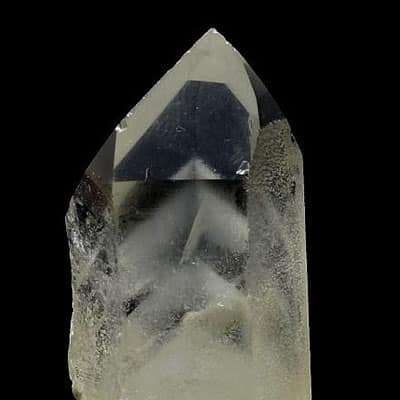 Natural White Chlorite Included Phantom Quartz Crystal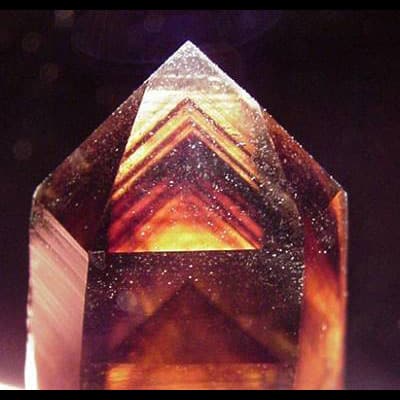 Heat Zoned Smoky Phantom Quartz Crystal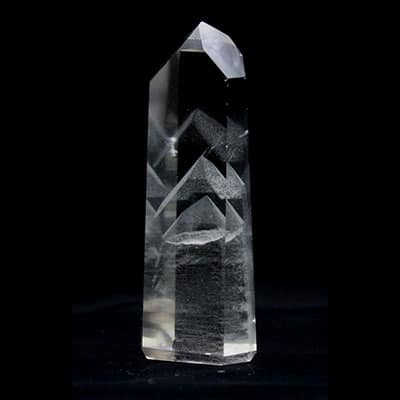 Polished White Chlorite Included Multi-Layered Phantom Quartz Crystal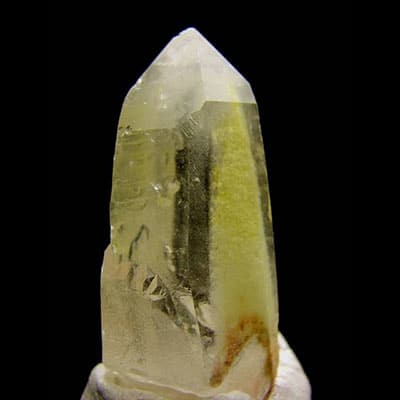 Limonite Included Phantom Quartz Crystal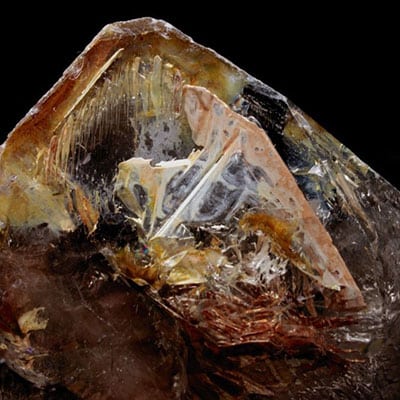 Clay Included Phantom Quartz Crystal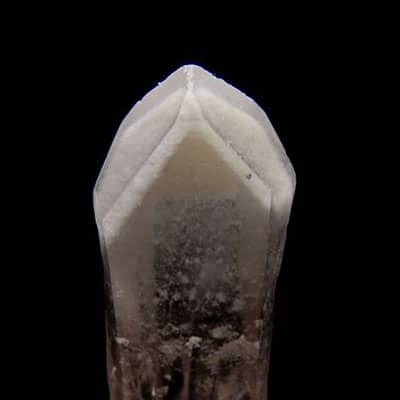 Natural White Chlorite Included 3D Phantom Quartz Crystal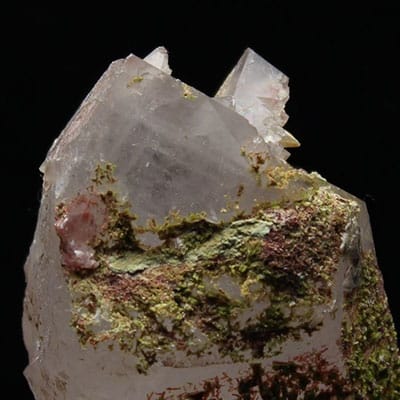 Natural White/Pink/Green Chlorite Included Phantom Quartz Crystal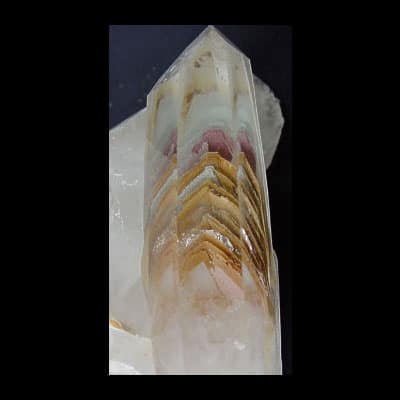 Natural Green and Pink Chlorite With Clay Included Phantom Quartz Crystal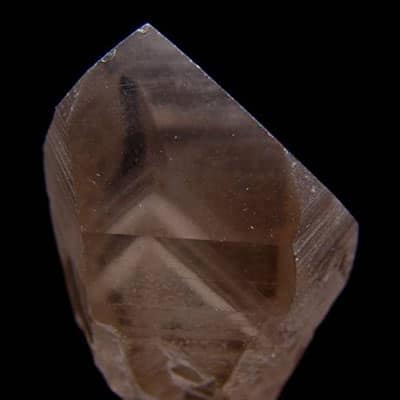 White Chlorite Included Phantom Smoky Quartz Crystal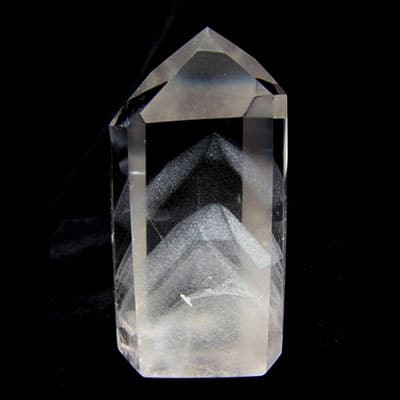 Polished White Chlorite Included Multi-Layered 3D Phantom Quartz Crystal
Do you have a personal experience, question or information pertaining to the crystal healing properties and meaning of Phantom Quartz? Please feel free to use the comments form below to share your knowledge with the Crystal Information encyclopedia. Please note, we moderate this feature to keep the site free from unwanted spam.