Garnet Properties and Meaning
Garnet is a member of the Nesosilicate family. It comes in both massive and crystalline form, with color ranging from Yellow to red. This mineral is readily available. Read more about Garnet healing properties information and view beautiful photo galleries below.
Garnet Physical Properties
Physical Makeup
X3Y2(SiO4)3
Common Locations
Canada, Mexico, Kenya, Pakistan, Madagascar, Brazil
Colors & Variations
Orange, Reddish Brown, Pink and Yellow
Index of Refraction
1.72–1.94
Luster
Vitreous to Resinous
Garnet Healing Properties and Meaning
Chakra Associations
Heart, Root
Subtle Bodies
Emotional, Spiritual
Zodiac Sign:
Virgo, Leo, Capricorn
Positions On Body
Ear Lobes, Heart
Emotional Influence
Compassion, Honesty, Self Esteem
Spiritual Gifts
Transformation, Unity
Diseases Treated
Liver, Heart, Blood
Nutrients Boosted
Vitamin A and B
Psychological Influence
Self Esteem, Independence, Good Dreams
Physical Body
Capillary, Heart, Kidneys, Liver
Intuitive Healing – Spiritual Trigger Words & Phrases For Garnet
General Garnet Crystal Healing Information
For what and How Does One Use it?
Garnet brings light energy to the lower chakras. It balances the subtle bodies. Garnet is a very powerful manifestation stone. When used in meditation, it acts as a great index, helping you quickly zero in on the information you need in a orderly and efficient manner. Garnet helps to boost ones self esteem, and this greatly assists with manifesting the things in life that are needed.
On a physical level, Garnet cleanses the blood, strengthens the Liver and Kidneys. As an elixir it increases the plasma and hemoglobin. It is also good for use in sexual disorders. It brings one out of their shell and live life to the fullest.

Spessartine Garnet Healing Properties & Meaning Video
Green Garnet Healing Properties & Meaning Video
There are several types of Garnet, and we will now cover these below!

Grossular Garnet
Grossular or grossularite is a calcium-aluminium mineral species of the garnet gemstone group. It ranges in color from light to dark yellow, golden, orange, scarlet, red, and green.
This Garnet encourages one to "Go with the flow – Relax and enjoy life!". It has strong manifestation energies, especially in regards to wealth.
Grossular Garnet has a rejuvenating focus, and is a great stone to work with for those that wish to break long standing negative programming.
Andradite Garnet
Andradite Garnet is a calcium iron silicate, named after the Portuguese mineralogist d'Andrada. It forms in colors of green, olive, dark yellow, and on occasion black.
Andradite Garnet helps one think outside the square to come up with flexible and creative solutions for any challenge. It aids in personal development for oneself, and development of healthy harmonious relationships with others.
This is the Garnet for self esteem, higher consciousness, personal fortitude and confidence.
As an elixir, Andradite Garnet can help males control and curb any residual caveman like aggressions!
Spessartine Garnet
Spessartine Garnet radiates it's warm light out to all that work with it. This beautiful Garnet comes in the colors of dark yellow, orange, scarlet and deep red.
Spessartine Garnet strengthens the heart and brain, thus the intent of the heart, and conscious rational mind work in harmony to manifest positive creativity in ones life. It is a super creative and expressive energy that will bring joy, warmth and happiness into your reality. This is a stone of action!
Spessartine Garnet Gallery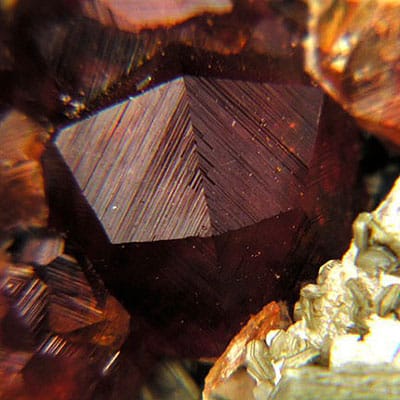 Spessartine Garnet Crystal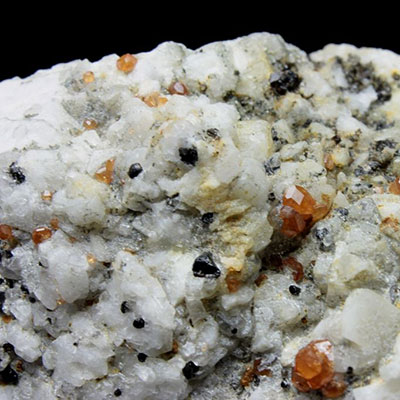 Orange Spessartine Garnets on Matrix
Click on the image below for a high resolution desktop photo of a Spessartine Garnet!
Click on the image below for a high resolution desktop photo of a Spessartine Garnet!
Do you have a personal experience, question or information pertaining to the crystal healing properties and meaning of Garnet? Please feel free to use the comments form below to share your knowledge with the Crystal Information encyclopedia. Please note, we moderate this feature to keep the site free from unwanted spam.